Topaz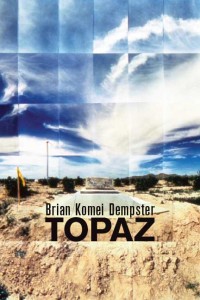 Topaz, Brian Komei Dempster's debut poetry collection, examines the experiences of a Japanese American family separated and incarcerated in American World War II prison camps. This volume delves into the lasting intergenerational impact of imprisonment and breaks a cultural legacy of silence. Through the fractured lenses of past and present, personal and collective, the speaker seeks to piece together the facets of his own identity and to shed light on a buried history.
Purchase "Topaz" from Four Way Books
POEMS from Topaz:
POEM FEATURES
BACK COVER BLURBS
"In Brian Komei Dempster's debut volume Topaz, named after the Japanese American internment camp where his maternal family was unjustly incarcerated during WW II, there are three overlapping worlds enfolded like petals of a vari-colored blossom. There is the tragic world of this Japanese American past (shared by descendants of the 120,000 Americans of Japanese ancestry who suffered the internment) and the withering, even disintegrating effects of these wartime events on the author's family. There is the familial world of suffering, endurance, duty, and dignity despite this history. And, finally, there is the poet's own world as a descendant of family and history, his entire lifetime wrapped in the gauzes, shrouds, and splendid petals of the past. For Dempster's poems refuse to treat these legacies singly, in isolation from the others, but interleave them one over another like thin, colored papers compressed into a tight bud that, when dropped into the bowl of his liquid imagination, open and swell to reveal heartache, tragedy, erotic love, sacrifice, and filial devotion unfolding in the multi-faceted and colorful leaves of this fine book. He writes from a sere piety, from eros burgeoning even under the shadow of a sorrowful history, from love of a wife and son, from his life as a caretaker in the temple of his heroic maternal grandfather, a Buddhist priest. In a voice thickened with stoical regret, from a body charged with sexuality and grief, Brian Komei Dempster writes a poetry like no other's."
—Garrett Hongo
"Topaz reflects with somber flashes the coming of age of a young man whose half-Japanese heritage leaves him at once outside and deeply inside the ordeal of Japanese Americans during the Second World War. The sensitive, candid speaker of Dempster's poems is movingly haunted by the experiences of his older relatives, particularly their callous incarceration in the internment camp at Topaz; their struggle to assimilate without sacrificing Japanese traditions; and their collective ambivalence—loyalty tinged with bitterness—regarding America's freedoms set against the cultural abuse of its immigrants. Several cherished relics fraught with family history (letters between grandparents during their enforced separation; a steamer trunk that serves literally as a crib for generations; a military jacket; a jade necklace) help to reify a connection that resonates in the imagination as palpably as their weight is felt against the flesh. This is a truly eye-opening debut by a promising poet."
—J. Allyn Rosser
"Topaz is a significant and moving addition to one of the oldest and most firmly rooted of literary genres—the quest. In this highly personal and deeply felt new book, Brian Komei Dempster attempts to probe and understand through poetry his family's experiences in one of our country's most shameful episodes, the internment of American citizens of Japanese origin during the Second World War. Dempster brings to his quest both a gravitas of tone and an arsenal of poetic skills mastered through his long apprenticeship in the art of poetry."
—Richard Tillinghast
AWARDS for Topaz
15 Bytes 2014 Book Award in Poetry
REVIEWS of Topaz
ARTICLES and INTERVIEWS
PRESENTATIONS
Seventeen Syllables: Asian American Writers Far From Home. Chrome Industries. San Francisco, California. October 17, 2015.
Brian Komei Dempster and Janice P. Nimura. Literary Arts. Portland, Oregon. June 9, 2015.
Artists' Talk. Oregon Nikkei Legacy Center. Portland, Oregon. June 6, 2015.
A Night of Poetry. Green Apple Books. San Francisco, California. April 25, 2015.
Perspectives on Camp. Japanese American Museum of San Jose. San Jose, California. April 12, 2015.
Poetry and Psychoanalysis Series. San Francisco Center for Psychoanalysis. San Francisco, California. March 21, 2015.
Why There Are Words Series. Studio 333. Sausalito, California. February 12, 2015.
Topaz 2015. San Mateo Public Library. San Mateo, California. February 8, 2015.
"Other Words, Other Worlds": Poetry, Creativity, and Historical Memory. The Center for Spiritual Life. Aldersgate United Methodist Church. January 25, 2015.
Marin Poetry Center Third Thursday Series. Falkirk Cultural Center. San Rafael, California. January 15, 2015.
WorldTemple Poetry Series. Sebastopol, California. October 18, 2014.
Berkeley Methodist United Church. Berkeley, California. September 13, 2014.
Lark Readings at Studio Grand. Oakland, California. August 9, 2014.
Poetic Tuesday, Litquake. San Francisco, California. June 17, 2014.
Wing Luke Museum of the Asian Pacific American Experience. Seattle, Washington. June 5, 2014.
University Book Store. Seattle, Washington. June 3, 2014.
Eagle Harbor Book Company. Bainbridge Island, Washington. June 1, 2014.
NVC Speaker Series. Seattle, Washington. May 31, 2014.
Student Webinar: Japanese American Experiences in WWII. The National WWII Museum. New Orleans, Louisiana. May 9, 2014.
Asian Pacific American Studies Faculty Reading. University of San Francisco, California. April 30, 2014.
Nichi Bei Foundation Author Series: Postwar Nikkei Life and Camp Legacies. San Francisco, California. April 26, 2014.
Contra Costa JACL Reading, East Bay Free Methodist Church. El Cerrito, California. April 12, 2014.
Bernal Yoga Literary Series. San Francisco, California. April 5, 2014.
Breaking Silence: Uncovering Memories of Japanese American Imprisonment. Japanese American National Museum. Los Angeles, California. March 15, 2014.
Japanese American Imprisonment and Resettlement: The Power of Our Stories. University of Southern California. Los Angeles, California. March 13, 2014.
AWP Offsite Group Reading. Seattle, Washington. February 27, 2014.
Day of Remembrance. De Anza College. Cupertino, California. February 19, 2014.
Kensington Library. Kensington, California. February 1, 2014.
The Power of Our Stories: The Fight for Civil Liberties in the Japanese American Community and Beyond. Santa Cruz Library. Santa Cruz, California. January 5, 2014.
Presentation: Asians of Mixed Heritage course. San Francisco State University, California. November 20, 2013.
Japanese American Imprisonment and Resettlement. San Francisco Main Library, California. November 6, 2013.
Eastwind Books of Berkeley. Berkeley, California. October 27, 2013.
Mrs. Dalloway's Bookstore. Berkeley, California. October 18, 2013.
Green Apple Books. San Francisco, California. October 17, 2013.
Friends of Albany Library Annual Membership Meeting. Albany, California. October 9, 2013.
VIDEO CLIPS